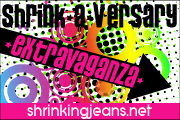 Hey you! Did you hear? November is our one year anniversary over at the
Sisterhood
, and we're celebrating in shrinking fashion!
All month long, we're going to have give-a-ways (um, like EVERY SINGLE DAY), and we have this awesome fitness challenge starting soon, and a brand new weight loss challenge (that starts today!), and maybe a few other fun things in store! But to enjoy the fun, you have to get in the game, so head on over to the Sisterhood. Do it now! Go! ;o)
So, this weight loss challenge...I sure hope it goes better than last challenge. The good news is that there are only two tailgates left. The bad news is that it's the beginning of the holiday season soon. This doesn't worry me too much because I've done really well the last two holiday seasons.
As some of you know, last year I tried the P90X program. I believe that was the hardest fitness program I've ever tried in my life. One thing that the trainer, Tony Horton, said almost every single work out was, "try your best and forget the rest".
I'm so bad about putting pressure on myself to do well. It's a bad habit that began in childhood and I've allowed to carry on into adulthood. I hate the feeling of letting those I care about down. I hate the feeling of letting myself down. Once I get that feeling, then it's hard for me to maintain focus. I let that happen here recently, and shame on me for that.
So, this challenge, I'm going to try my best. I'm going to hopefully shrink, and I'm just not going to worry about it. (Or try to.) I'm going to try my best. Will you join me?
Starting weight: 146.2