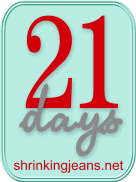 Okay, so it's been two weeks since my last weigh-in. I'm pretty sure that if she could have, Melissa would have popped me last week for forgetting.

I took the week that I went to Chicago off completely. Then last week, I got back to exercise and watched my food, but wasn't militant about it. So, I'm not surprised to see that I'm up to 144.6.

Now, it is that time of the month and I'm feeling seriously bloated this morning, so that could explain the gain. I want to think that's what it is because I've been literally working my tail off doing the Chalean Extreme work outs. You can follow along with me on my Chalean Extreme journey here if you want!

Next, we're not in a weight loss challenge right now at the Sisterhood, but we are challenging you to create a new habit in the next 21 days. My new habit? To take my vitamin!! I'm so bad about it!

So, how have you been friends? It's been a while since we've chatted. Are you creating a new habit? Talk to me!
Weight two week's ago: 144.0
This week's weight: 144.6